How Long Should A Blog Post Be? – A Thorough Analysis
How Long Should A Blog Post Be? – A Thorough Analysis
Due to the highly competitive nature of the SEO landscape, knowing the tricks of the trade that give your content the edge up on your competitors is what every content marketer seeks. Determining how long a blog should be is essential because it can affect budgets, posting frequency, and overall content marketing performance.
There are a number of differing opinions from SEOs about what the magical word count should be for a blog post, and many of them are based on data gathered as long ago as 2012. Since the internet has changed quite a bit since then, we'll analyze more current data to help answer this question.
But first, let's go over the misleading charts that everyone else uses to answer this question.
These Overused Charts Are Misleading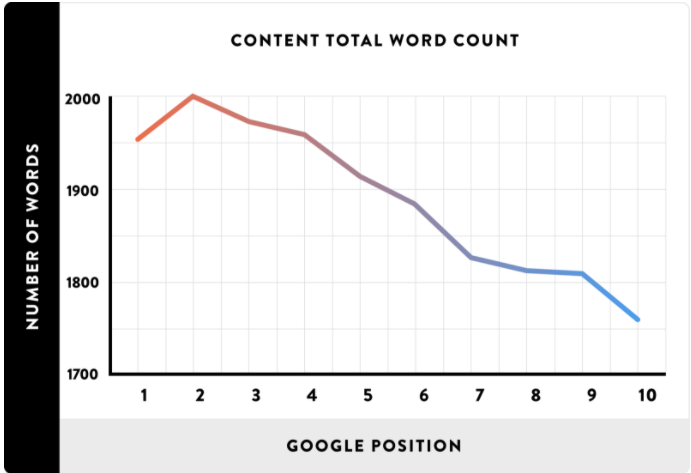 The chart above was created by
Brian Dean
in
2016
showing the average word counts of high-ranking content.
The chart above is from a study conducted by
SerpIQ
in
2012
showing the word count of highly-ranked content.
What do These Charts Mean?
Both charts dramatically show that content with a higher word count ranks better within Google's top 10 than content with a lower word count.
According to these graphs – and many SEO's have concluded their numbers based on these graphs – the right word count for how long a blog should be is an average of 2,225 words.
How Are They Misleading?
The main reason these are misleading is due to the deliberate setting of the scale of the Y-Axis. The Y-Axis scale is a very small subset of the total 2,450 words, basically only showing us a sliver with a measly 300-400 words. This small scale makes the word count jumps look huge between ranking position 1 and 10.
Based on the charts, many make the false assumption that if you don't write content that is at least 2,225 words, you won't rank high at all.
This is simply not true.
What is the True Effect of Long Form Content on Rankings?
Matt Bentley
from CanIRank shows us the true effect longer-form content has on rankings.
First, Matt took the same data, which mimicked the charts above, but set the scale from 0 to 2,500 words on the Y-axis. He also extended the X-axis to show Google rankings from 1 to 40.
Here's how it looks:
As you can see, this chart doesn't look nearly as dramatic as the first two charts do. The effect of long-form content suddenly doesn't appear as substantial as it did on the charts with smaller-scaled axises.
Higher Word Counts Only Affects the Top 20 Results
Using a smaller median scale on the Y-axis to exaggerate the effect, here is what the chart looks like:
As you can see, the slope is pretty steep for positions 1 through 20; however, it flattens out considerably after that.
This means that longer-form content really only makes a difference for Google positions 1 through 20, and isn't as strong for positions above 20.
So How Long Should A Blog Post Be for Google?
If we look at the charts purely from the perspective of winning on the search engines, the average word count of
content that ranks #1 in Google
is around
1,900 words
. It's important to note that this new word count is about 325 words less than the number from 2012.
This means that a blog post should be at least 1,900 words if you are trying to rank high on Google for any content that is targeting a high-value/competitive keyword phrase.
Do Readers Really Prefer 1,900 Words?
This is where it gets a little tricky. While Google definitely is rewarding content that is 1,900+ words, it doesn't necessarily mean that viewers prefer the content of that size.
Tim Brown from Snap Agency recently polled blog readers via Twitter to see what word counts they prefer reading.
My previous research has indicated that the best blog length for traffic is at 2,250 to 2,500 words but what is your preference as a reader?

— Tim Brown (@timbdesignmpls) November 7, 2016
From this and other polls, it's clear that there is a preference among readers for shorter content when the subject matter doesn't require longer content.
So while content with 1,900+ words is favorable to Google, it may not be favorable to your audience based on the type of information being relayed and the types of answers your readers are seeking.
How Long Should a Blog Post Be for Everyone Else?
While the poll above is a pretty small subset of people, there are other studies that show that once a post hits about
1,000 words
, the average number of social shares increases, as does organic traffic.
This means that posts that are not targeting highly competitive keywords should be around 1,000 words to keep audiences happy, while also ensuring performance.
The charts below were created by SnapAgency to illustrate word count effect on shares and traffic:
As you can see, shorter content actually does pretty well with social shares (up to 250 words), but after that, there isn't a significant jump until about 1,000 words.
For organic traffic, however, the impact really isn't seen on lower word counts at all. Traffic starts to gain traction and spike once the word count reaches 1,000+.
Is Word Count the Only Thing That Drives Traffic and Shares?
Nope.
While word count does play a part in the overall algorithmic scheme of things when it comes to traffic and shares, there are several other factors and signals that can trump word count.
For example, Seth Godin's blog is known for being very short, with each post often being under 200 words.
He also get's crazy amounts of shares and traffic. The reason why?
He has a very large following and is very popular.
What this means is that websites that have a large existing following base or authority on the web can still get great results with shorter posts.
Where you sit on the spectrum can determine how long you should try to make your posts. If you are a new website or business just starting out, creating longer posts would make sense. However, if you are a well-established business that has consistent traffic, creating content with a mix of different word count sizes makes the most sense.
So, while 1,000 words is a decent word count mark to hit, it's not the be-all-end-all number as your situation could require more or fewer words on average.
How Do I Balance Long-Form and Short-Form Content?
Since not everyone wants to read a blog post over 1,900 words, how then do you balance the posting frequency between long and short content? The answer comes down to your content marketing strategy's preference on how frequently you are posting blogs.
Based on the chart above (I know the chart is a little old, but the trends are still sound), posting blogs weekly results in a 66% chance of landing a customer via their blog. What's interesting is that by upping that frequency to 2-3 times per week, your chances only increase by 4%. However, if you increase the frequency to more than once daily, your chances increase by 26%.
For agencies that post multiple times a day, having to come up with 1,900+ words per post is near impossible, which is why these agencies typically post content of a much shorter word count.
Therefore, if your content marketing strategy includes a high frequency of posting, shorter word count blog posts should work just fine for you – as long as you intermittently sprinkle in some posts over 1,900 words that target your high-level keywords along the way.
I Don't Have a Posting Strategy, What Should I Do?
The first thing to be done when coming up with a posting strategy is to decide what you can realistically and consistently do. Is it once a month, weekly or daily?
Only you can answer this, but do it with the understanding that you can always work up to whatever frequency you would like to achieve. It's more important to be consistent with posting rather than intermittent as far as Google and your readers are concerned, so don't shoot for the moon!
If you are an agency or medium-size business, I would suggest the following strategy:
One monthly, 1,900 word blog post that focuses on a high-value/competitive keyword.
One weekly, 1,000 word blog post that keeps your readers fed while also alerting Google that you are consistently serving up fresh content.
How long should a blog be? If you are fighting for a competitive keyword,
Google does reward content that is 1,900+ words
. Your readers, however, may not respond well to longer content based on your subject matter or industry. In most cases, having content around
1,000 words should keep your readers happy
without making them feel like the content is too long.
Finding the balance between long- and short-form content is different for everyone, but is so important. Ultimately, the right answer is to create content that is long enough to clearly and concisely share your message to your readers. Mixing short and long content is the best way to cover your bases in order to keep both Google and your readers happy and engaged.
Need help creating long- and short-form blog posts? We've got you covered! Start improving your rankings and traffic by checking out BKA Content's high-quality and affordable blog post writing services.
Co-Founder & CEO

Greg Secrist has worked in the SEO and content creation industry since 2009. He is the CEO and co-founder of BKA Content, an industry leading content creation services company. Greg is also a passionate tech geek, web designer, marketing pro and SEO expert.
Latest posts by Greg Secrist (see all)